XIX century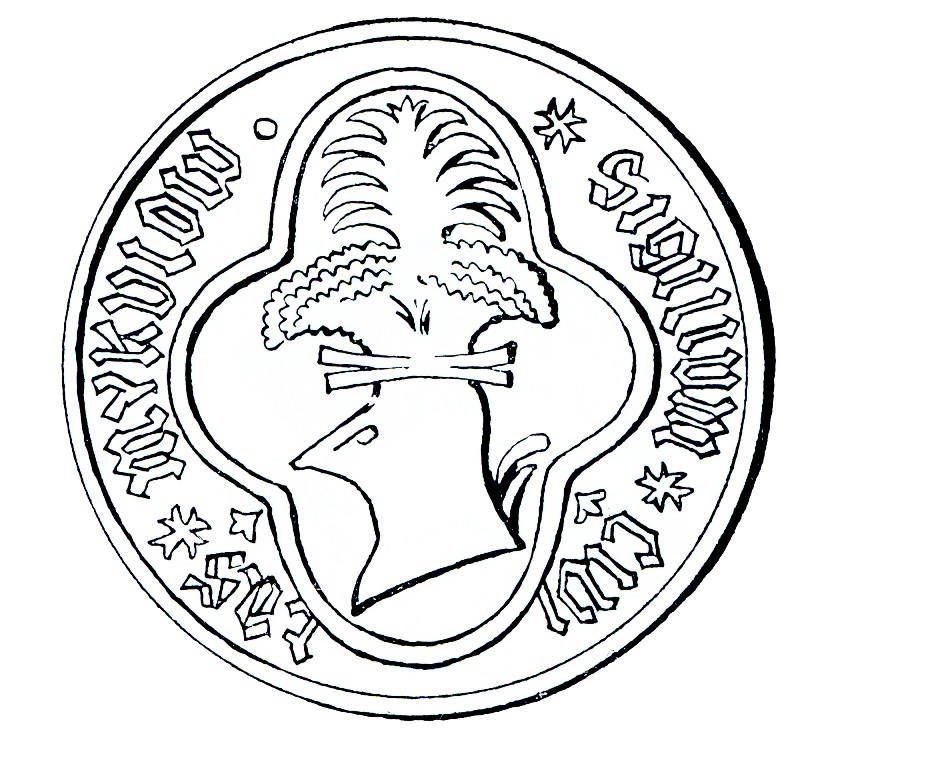 With head held high
The name of the town comes from the name Mikołaj [Nicholas]. However the town is not named after St. Nicholas but rather Mikoła or Mikuła which is probably the name of one of its former owners.  The name Mikułów prevailed until the 19th century but the spelling changed over time -Miculow, Mikulow, Nicolaw, Mikulau…
The present name – Mikołów, dates back to 1760,  and was spelled in a number of ways, especially that from the 2nd half of 18th century Prussian authorities restricted the use of Polish.
When the Hohenzollern family was in power there were two competing versions of the German name of the town: Nikolai and Nicolai.
The oldest preserved seal with the old coat of arms dates back to the 15th century and shows a knight's  helmet in profile adorned with two bunches of feathers.
The present coat of arms  corresponds to those displayed on seals used in the early 19th century and shows a knight's helmet with the visor up head on.
There are four feathers on top of the helmet – silver, blue, red and yellow. The helmet joined to the breastplate is decorated with a gold rosette.
The present coat of arms has been officially used since 1995.
XIX century With head held high
Czytaj więcej >
Castellany
Year 1222 is the earliest date in the history of Mikołów. It was then that  Casimir, the Prince of Opole.
issued a document with a list of privileges for Wawrzyniec, the bishop of Wrocław. The document names comes Andreas, castellan Andrzej of Mikołów as a witness.
Therefore a town must have existed here as in 1222 Mikołów was already the seat of the prince's representative with military, judicial and administrative powers. The first church in Mikołów dedicated to St. Nicholas was there, tenderly called Mikołajek. There is now a chapel dedicated to St. Nicholas where the first church used to be by the evangelical church on the hill.
No one is sure where the former town used to be. Mayor Tertoła claims, in the town's chronicle dating back to  year 1920, that the town was located on a mound (there were two more mounds back then), built opposite the old church dedicated to St. Adalbert. Konstanty Prus, the author of a prewar monograph on Mikołów, thought it was located on the hill where St. John evangelical church sits now.
None of those theories has been confirmed so far.
The town fell into decline in mid 13th century. It is not known whether it was the consequence of Tatar incursions or wars waged by Piast dukes to seize the throne of Kraków. What is clear however is that Pszczyna increased its role in this area whereas Mikołów lost its political and economic position. In 1308 the castellany was moved to Pszczyna which then became the seat of a duke ruling over the land.
1222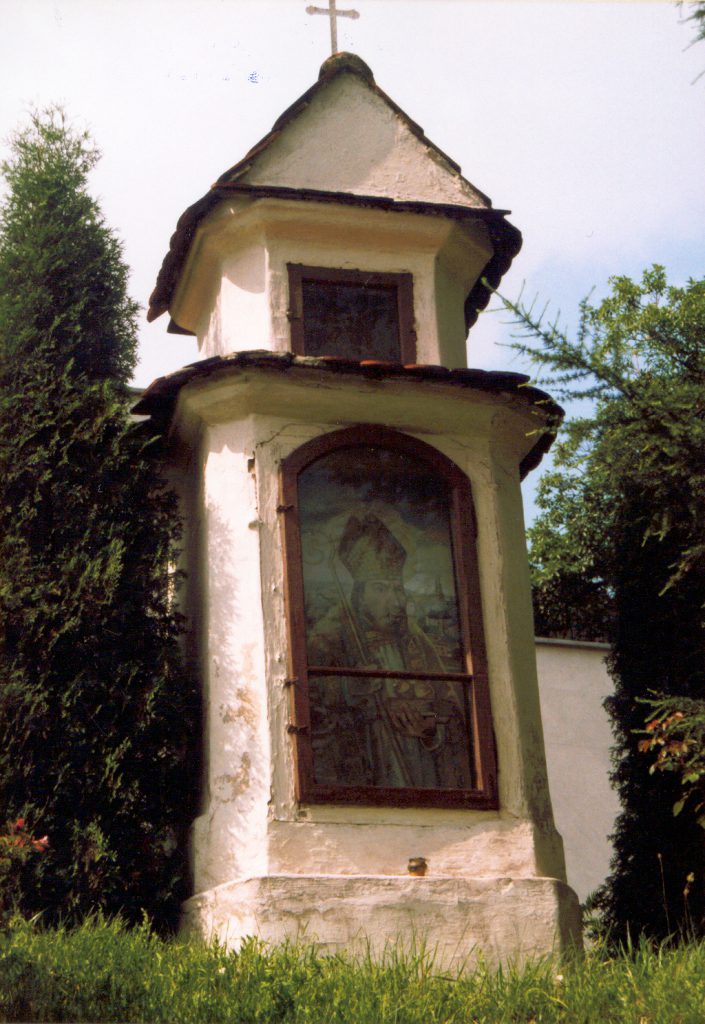 1222 Castellany
Czytaj więcej >
The old Mikolów was never rebulit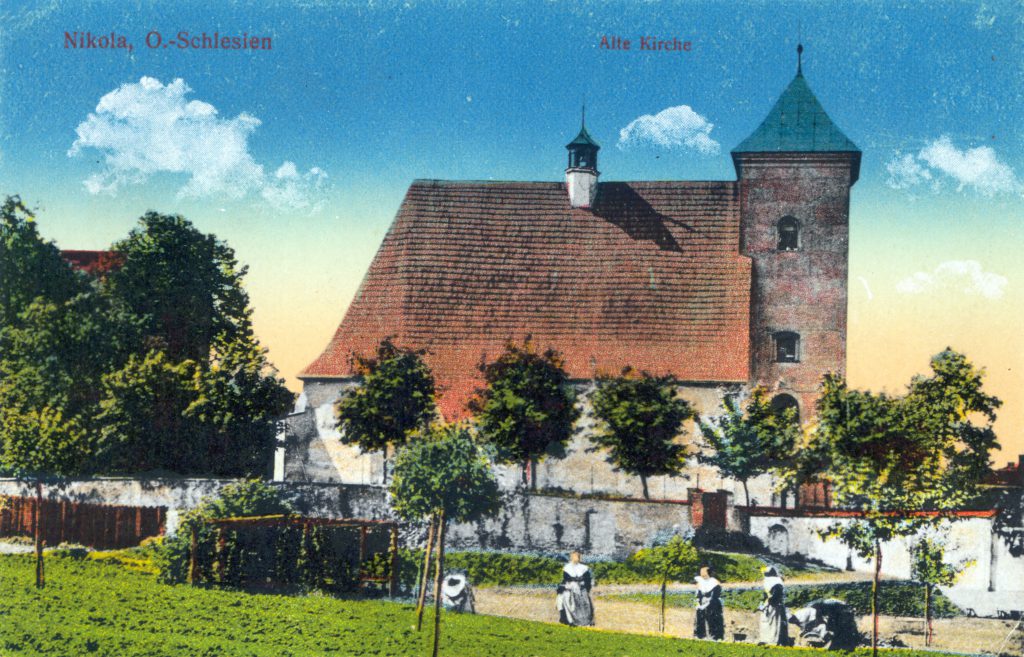 Two aldermen
The old Mikołów was never rebuilt but a new city started developing on the other side of Jamna stream which now runs underground. It was established based on German law and was the origin of the present city center  with the main square and adjacent streets.
It was also then that the first church dedicated to St. Adalbert was built. It is now referred to as the Old Church and has a second patron – Our Lady of Snows.
In 13th century an alderman with a hereditary  farm, appointed by the owner, became the town's leader. Podfarze, a separate town district, was established around the old St. Adalbert church and had its own alderman and judicial system.
Mikołów used to be a private town – in 1287 it belonged to knight Jan z Grabia. The next owner was Jan z Wierzbna who was given the town by Hungarian king Matthias Corvinus in 1476. In 1536 Mikołów was already owned by princes ruling over Pszczyna lands and remained their property until early 19th century. It was ruled by Turzo family (until 1548), Promnitz family (1548-1765) and Anhalt family (1765-1808).
The old Mikolów was never rebulit Two aldermen
Czytaj więcej >
Trading fair in Mikołów
In 14th century Mikołów came under Bohemian rule and in the 16th century it became a part of the Habsburg monarchy.
The town was built on the crossroads of major trading roads, for centuries its residents were farmers, craftsmen and traders.
In 1545 Ferdinand I, the King of Bohemia, granted the residents of Mikołów the right to make Tuesday a market day and two organize two trading fairs in a year – in June and in October. The trading fair strengthened the position of the town.
In 16th and 17th centuries Mikołów was an important cattle trading center on the route leading from Moldova and Ukraine to Silesia and Moravia. Cattle trading was also approved by the Duchy of Pszczyna.  Townsmen also enjoyed brewing and distilling privileges.
Year 1547 is another important date in the town's history. It was then that Jan Turzo, the owner of Pszczyna lands granted the town charter, based on which a town council consisting of four town councilors was appointed every year. One of them held the function of a mayor and chairman of the council.
In 14th century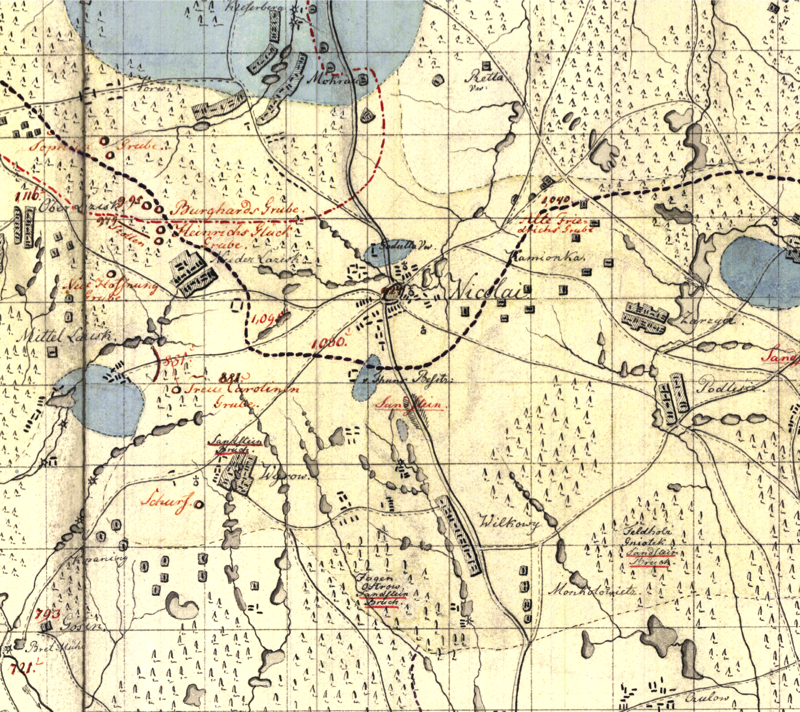 In 14th century Trading fair in Mikołów
Czytaj więcej >
In 1742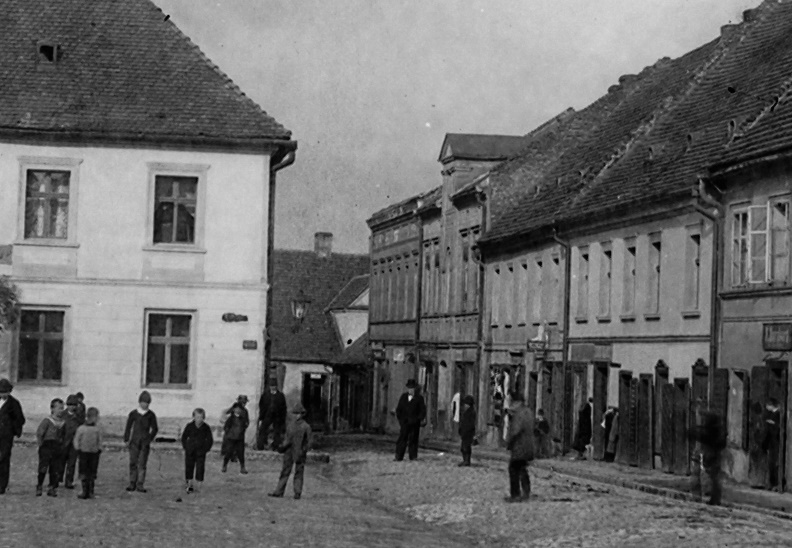 Silesian misery
In 1742 following Silesian wars, Mikołów was incorporated into Prussia and remained under the rule of Hohenzollern family until 1918.
The town was struck by disaster which destroyed the property of its residents. 14th century witnessed unusually cold winters, crop failures and famine. In years 1349-1350 the town was struck by the black death which killed one-third of its residents. Destruction, poverty and death were common during the Thirty Years' War in the 17th century.
18th century turned out to be even more tragic. The beginning of the Prussian rule over Silesia was the time of destruction caused by military activities. It was also the time when Mikołów was struck by earthquakes, locust plagues and destructive windstorms.
As if this wasn't enough, in 1794 the biggest fire in the town's history broke out, it consumed most houses, a school, hospital and the town hall along with the archives. It was a disaster not only for town residents of the time but also for historians who lost an invaluable source of information.
Following each tragedy people struggled to get back on their feet and rebuild the town. The new town hall however was erected only one year after the great fire. Just like the previous town hall, the new building was located in the center of the main square. The outline of its foundations may still be found on the main square today.
Crop failures which happened  several times in this and the next centuries resulted in famine and epidemics. Most tragic famine and epidemics struck the town in the 19th century, with most people killed by typhus fever which broke out in 1847 following potato crop failure lasting for several years. In 1848 there were already 2507 orphans in Pszczyna district who didn't even have distant relatives who could take care of them. Orphanages were created for those children, including one in Mikołów.
In 1742 Silesian misery
Czytaj więcej >
It all started with spoons
In 1808 as a result of Prussian reforms, Mikołów ceased to be a private city. A new law on cities restored municipal government and an elective city council.
First industrial factories operating mostly in metal and engineering industries were opened in Mikołów in mid 19th century.
Everything started with a spoon company established by Ludwik Frölich at present Skotnica Street. At that time Silesia was famous for the production of spoons, and the factory in Mikołów was one of the biggest factories of that type in the region. According to Konstanty Prus, the factory was created in 1840, however statistical description of Pszczyna district  refers to year 1830.
Iron foundry called Maria Ludwika steel plant was created in 1842. It was located in the northern part of the town by the road to Katowice. Over time it started producing nails and spoons but it eventually had to stop the production.
Other steel plants created in the second half of the 19th century could not compete against  bigger factories in other Silesian towns and villages.
Another steel plant was built by the road to Mokre and was opened in 1850 by Eugeniusz Mann. It was called ironworks "Mikołów" ("Nicolai"), and was also known as "Mann" ironworks. Successive owners disappointed with low profits quickly sold the plant. It was shut down twenty years later.
Steel plant  "Walter" – built in 1856, close to the location where a railway station was built later, had to change its production profile (it manufactured enamelware etc.). Following reorganization, in 1911 the plant was turned into a factory manufacturing mechanical stokers called Fabryka Palenisk Mechanicznych. The plant exists till this day and uses the abbreviation of its former name – FPM SA.
A steam boiler factory was also opened in the second half of the 19th century. It was created in 1872 by Heinrich Koetz on a piece of land adjacent to Karola Miarki Street. The company flourished after 1895 following modernization performed by a new owner – Karol Büschel. The factory manufactured iron and metal structures, steam machines, machinery castings, construction and road equipment.
The company has been doing rather well, even in between the world wars and during occupation; since 1966 it has operated under the name  "Mifama".
A paper factory was created in 1862 at Rybnicka Street and it still exists today.
Mikołów also had breweries, distilleries, mills, brick factories and quarries.
There were several private mines  –  "Georgenflur", "Anna", "Hamster", "Maulwurf" and "Nicolai" but did not play a major role,  not even for the economy of the Duchy of Pszczyna. Anna mine is worth mentioning as it was opened in 1850 and closed down shortly after. It was however reopened in 1920 and its name was changed to Barbara. In 1926 it was transformed into an experimental mine and since then it has been one of the most important mines of this type worldwide.
Industrial growth in the 19th century led to an increase in the population of Mikołów, especially the number of factory workers with peasant origin who often had to run small farms at the same time to improve their life standard.
In the mid-19th Century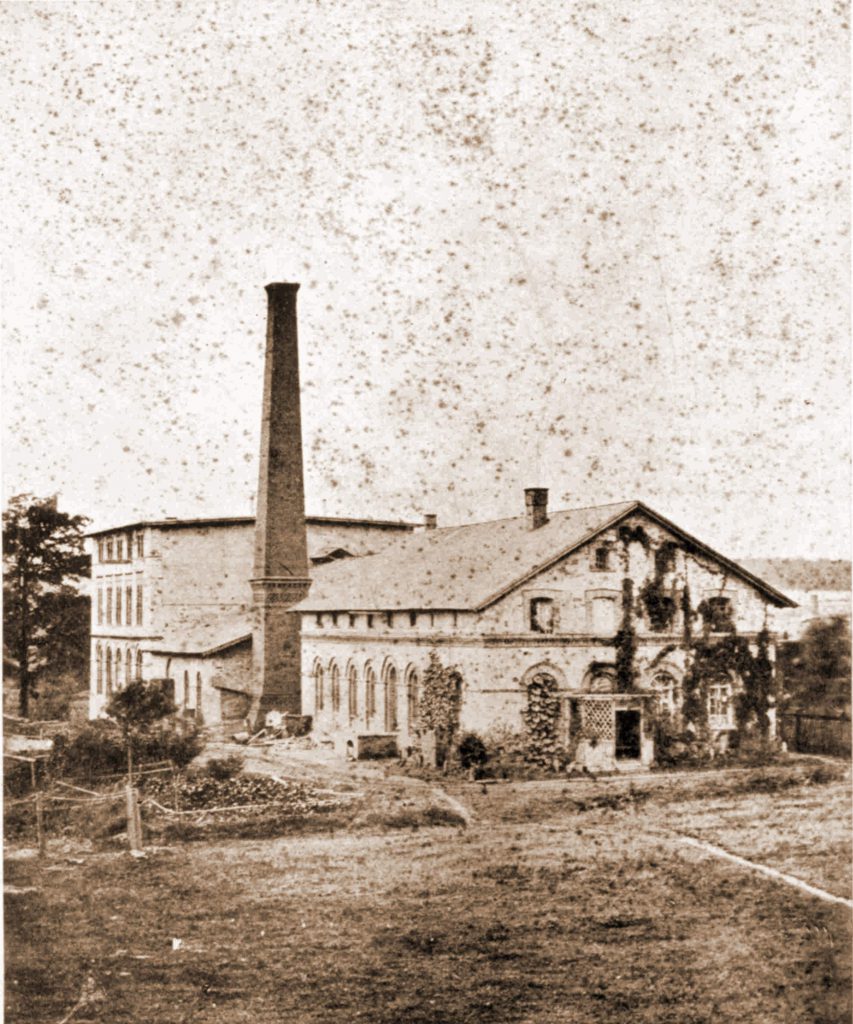 In the mid-19th Century It all started with spoons
Czytaj więcej >
Second half of the 19th century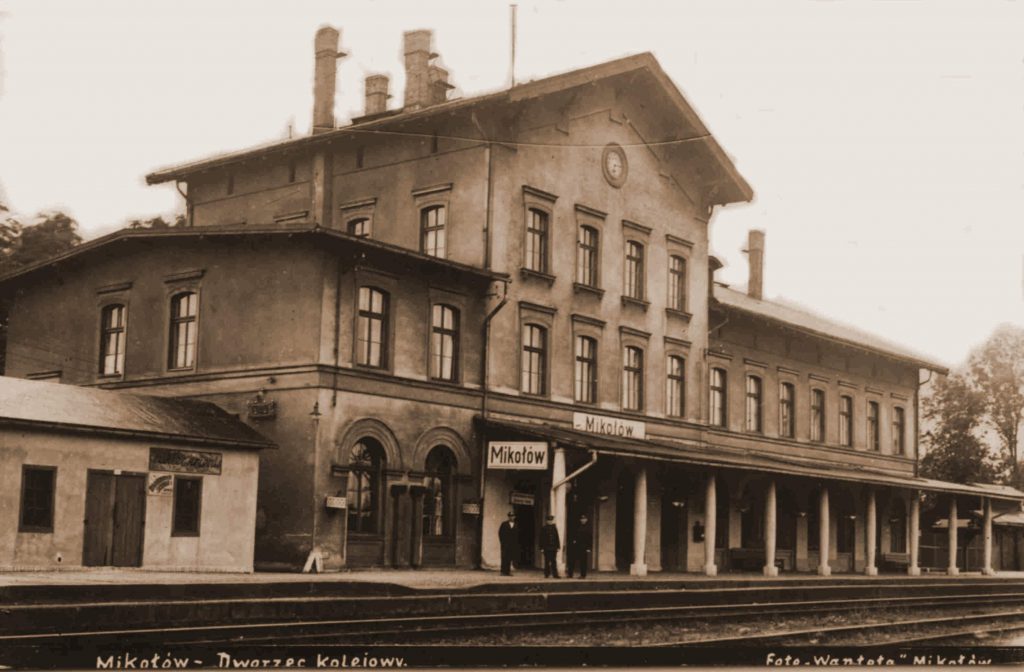 Beautification of the town
Changes taking place in the town during the period of industrialization, especially in the 2nd half of the 19th century must have been surprising for its residents.
Planty park was opened, first street was paved, the main square was equipped with gas lamps (ca. 1867) and a new town hall which still exists today was built (ca. 1872).
Construction of hard surface roads started, and a first railway line was opened in Mikołów in mid 19th century (1856).
Two more churches were built, namely in years 1843 – 1861 the catholic parish built a new church dedicated to St. Adalbert which is now a minor basilica. In 1861 evangelicals  finished the construction of St. John church.
There was also a brick synagogue built in 1816, and until1970s it was located on what is now known as 750-lecia square.
The town also had a court, hospitals, police headquarters, post office, slaughterhouse and a prison.
High schools were first opened in Mikołów in 1870s as a result of efforts made by parents who wanted young people to complete education received  in a national school.
First, in 1873 a private high school for girls was opened. Since 1903 it was located near Planty park. From 1922 until the outbreak of World War II it functioned as a school for the German minority.
First high school for boys was opened in 1875. It functioned for 7 years only and it provided a background to those who wanted to go the secondary school and teachers college.
Another one was opened in 1904 and was called Städtische Höhere Knabenschule Nicolai (Town High School for Boys in Mikołów).
It was located at Karol Miarki Street. Transformation of the German secondary school into Polish
secondary school started in June 1922. It was the beginning of Karol Miarka High School.
Second half of the 19th century Beautification of the town
Czytaj więcej >
Printing capital
Printing industry played an important role in the town's history.  First Polish printing house in Silesia was opened in Mikołów in 1845 by Tomasz Nowacki.
This is where Karol Miarka had his "Katolik" printed before he opened his own printing house in Mikołów.
His son, also named Karol, inherited a couple of printing machines from his father and after several years in business built a modern printing house which still exists today at Żwirki i Wigury Street.
Thanks to Karol Miarka junior, the town became the printing capital of Silesia. His successors continued his work – in printing business, as well in the social and patriotic field.
The printing activities of the printers in Mikołów which promoted Polish population and raised the national awareness, as well as their social activity contributed greatly to the development of Polish associations and had impact on election results in Silesia.
It is also worth mentioning that it was mainly employees of the printing house run by Karol Miarka junior who, in 1908, came up with the idea of creating Harmonia choir which still exists today.
The printing business in Mikołów had an invaluable impact on incorporating this part of Upper Silesia back into Poland in 1922.
1845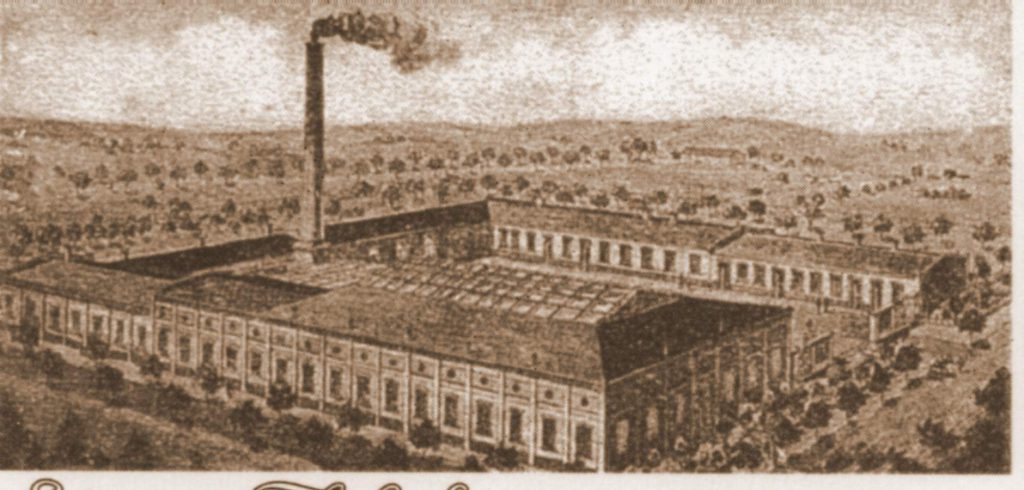 1845 Printing capital
Czytaj więcej >
Early 20th century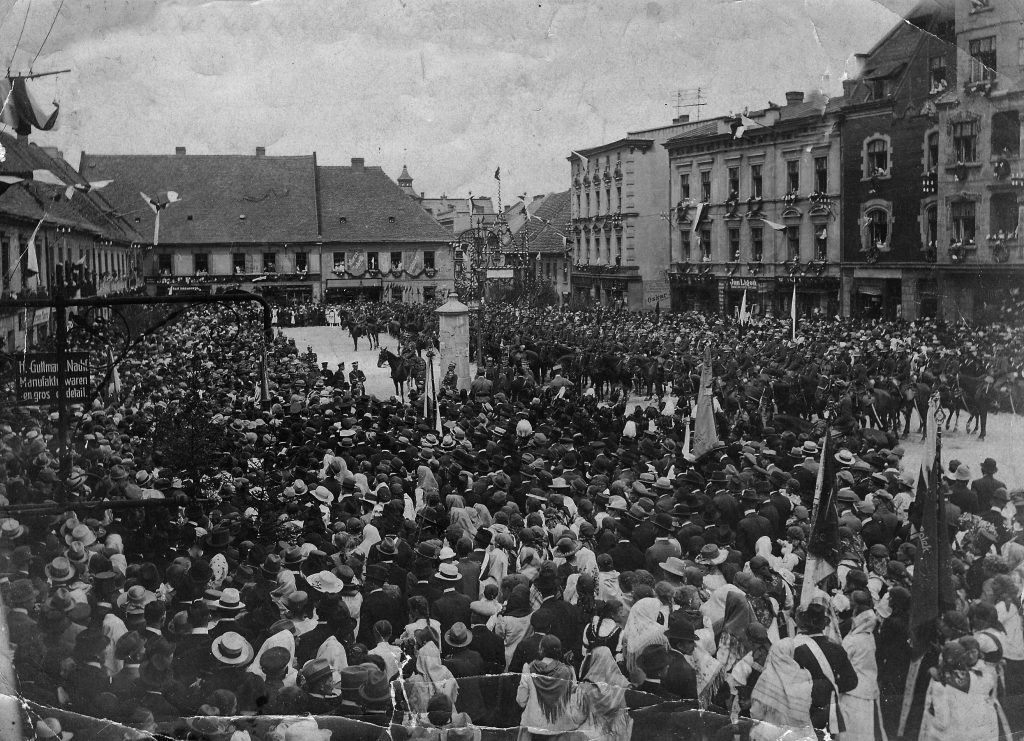 Polish lancers on the main square
Early 20th century witnessed more great changes. In 1918 Poland regained independence and in 1922 Mikołów and a part of Upper Silesia was returned to the Second Polish Republic. However  the population of Mikołów had to survive the difficult time of World War I, Silesian uprisings and the border referendum before general Kazimierz Horoszkiewicz leading the 8 division marched into Mikołów on June 29, 1922 to manifest that the town has been taken over by Polish authorities.
During the twenty years between the wars the town was electrified, new schools were opened, new post office and fire station buildings were erected, as well as a modern building housing the secondary school (at present Karol Miarka High School), and a stadium, all of them still serve their purpose today.
Works on the construction of a playground for children started, a library belonging to the People's Libraries Society was also established, however Germans destroyed its book collection when the war broke out.
Editorial office of Gazeta Mikołowska, the predecessor of the monthly published today, existed for several years.
First bus line from Mikołów to Katowice was opened, with the bus stop located on the main square.
Unfortunately in the 1930s the town was affected by the global economic crisis, and soon Europe faced the threat of war.
Early 20th century Polish lancers on the main square
Czytaj więcej >
On two sides of the front 
The first days of World War II were tragic for the town.
On September 3, 1939 following the famous battle of Mikołów, German army marched into town and repressions and executions started. 12 people – Silesian insurgents and Polish activists, were executed on September 17 on Gronie hill. Many residents of Mikołów were sent to concentration camps during the war.
Names of several residents of Mikołów can also be found on the Katyn list.
Resistance movement was organized very quickly. Residents of Mikołów also fought in Polish Armed Forces in the West. The tragedy of people who lived in Silesia at that time was that they found themselves also on the other side of the conflict – many were forced to join Wehrmacht.
The first days of World War II
The first days of World War II On two sides of the front 
Czytaj więcej >
Waiting for the Third Polish Republic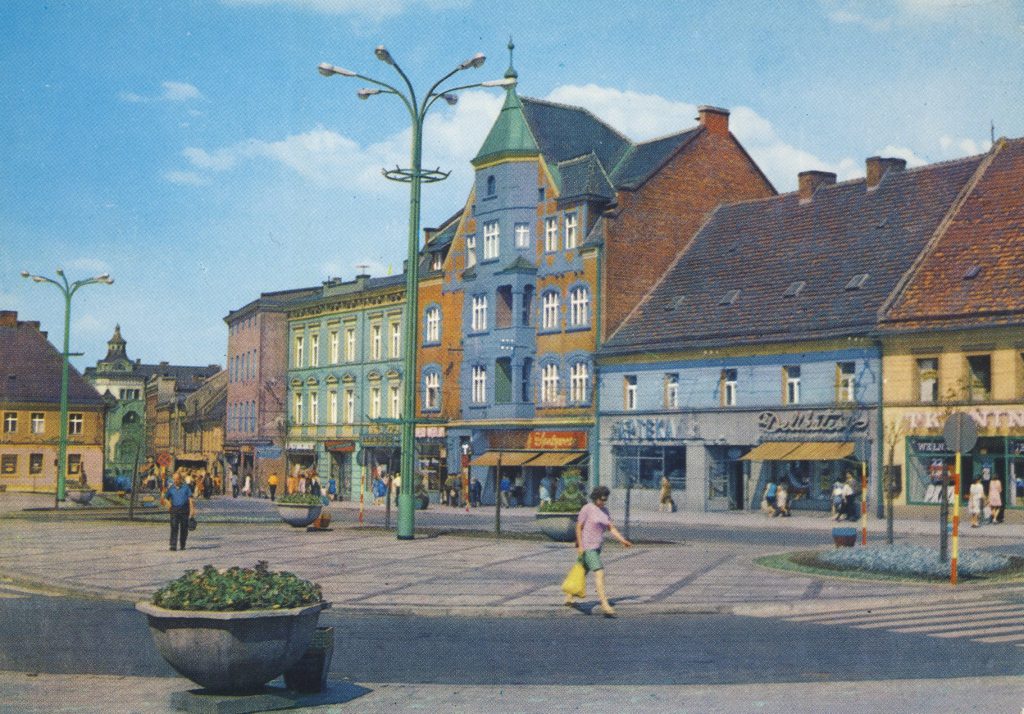 Waiting for the Third Polish Republic
German army withdrew from Mikołów in January 1945.
Soviet soldiers who entered Mikołów are not remembered as liberators only but also the perpetrators of a horrific crime on two Salvatorian nuns. Many people were later arrested and sent to camps in the East.
With time industrial plants resumed their activity and were nationalized, schools were renovated, and later many of them were extended and several new schools were built as a direct consequence of building new housing estates and increase in population  – from ca. 14 000 in 1950s to ca. 39 000 nowadays. Villages of Borowa Wieś, Mokre, Paniowy and Śmiłowice were incorporated into Mikołów.
Years 1989 and 1990 were crucial for Mikołów and the entire country. This is when certain processes were lunched and have been bringing changes to the town since then. In 1995 Bujaków was  incorporated into Mikołów.
Year 1999 is also an important date for Mikołów as it became a county town. Mikołów county includes Mikołów, Łaziska Górne, Orzesze, Ornontowice and Wyry.
Waiting for the Third Polish Republic Waiting for the Third Polish Republic
Czytaj więcej >
Źródła:

- Bronisława Jeske-Cybulska: Mikołów – dzieje i funkcje miasta na obrzeżuniecki węglowej na tle industrializacji Górnego Śląska od połowy XVIII dopołowy XX wieku (maszynopis pracy doktorskiej), Opole 2010.

- Bronisława Jeske-Cybulska: Początki dziejów miasta Mikołowa i jego rozwój terytorialny, Zaranie Śląskie Nr 7-8.

- J. Horwat: Najstarsze dzieje Mikołowa, [w:] Ojczyzna bliższa i dalsza. Studia historyczne ofiarowane Feliksowi Kirykowi w sześćdziesiątą rocznicę urodzin, pod red. J. Chobaczyńskiego, A. Jureczki i M. Śliwy, Kraków 1993.
- Jan Kantyka, Alojzy Targ: Mikołów. Zarys rozwoju miasta, Katowice 1972. - Konstanty Prus: Z przeszłości Mikołowa i jego okolicy, Mikołów 1932 (reprint 1992).

- Ryszard Szendzielarz, Bogusław Bromboszcz: Mikołów z perspektywy 150 lat, Mikołów 2009.