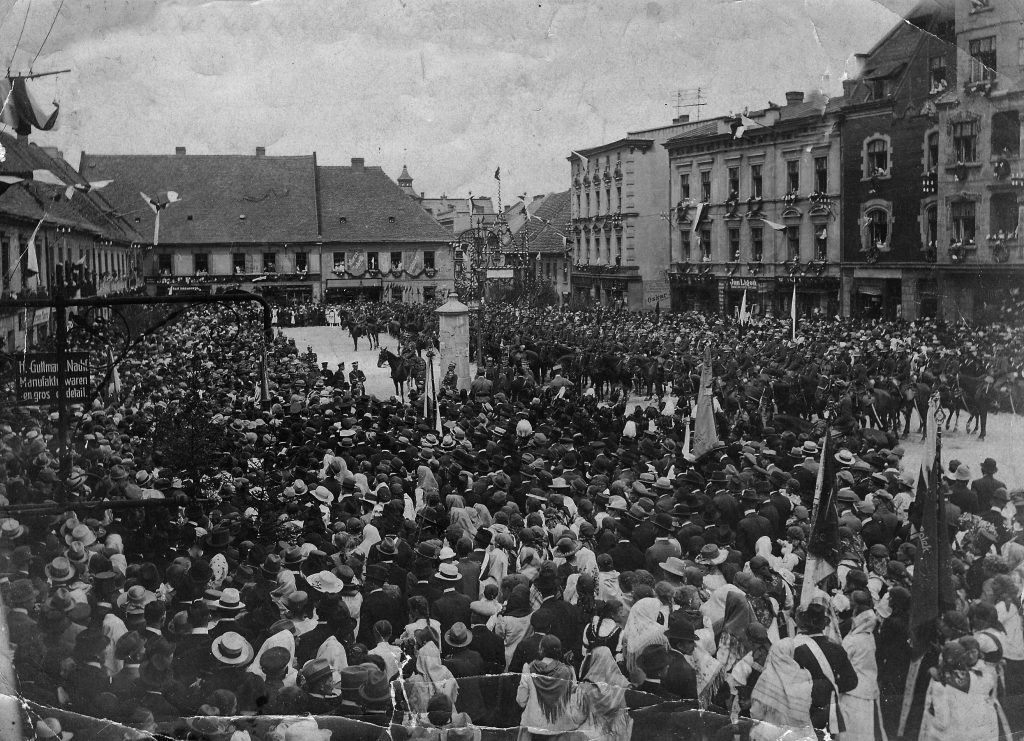 Early 20th century Polish lancers on the main square
Early 20th century witnessed more great changes. In 1918 Poland regained independence and in 1922 Mikołów and a part of Upper Silesia was returned to the Second Polish Republic. However  the population of Mikołów had to survive the difficult time of World War I, Silesian uprisings and the border referendum before general Kazimierz Horoszkiewicz leading the 8 division marched into Mikołów on June 29, 1922 to manifest that the town has been taken over by Polish authorities.
During the twenty years between the wars the town was electrified, new schools were opened, new post office and fire station buildings were erected, as well as a modern building housing the secondary school (at present Karol Miarka High School), and a stadium, all of them still serve their purpose today.
Works on the construction of a playground for children started, a library belonging to the People's Libraries Society was also established, however Germans destroyed its book collection when the war broke out.
Editorial office of Gazeta Mikołowska, the predecessor of the monthly published today, existed for several years.
First bus line from Mikołów to Katowice was opened, with the bus stop located on the main square.
Unfortunately in the 1930s the town was affected by the global economic crisis, and soon Europe faced the threat of war.