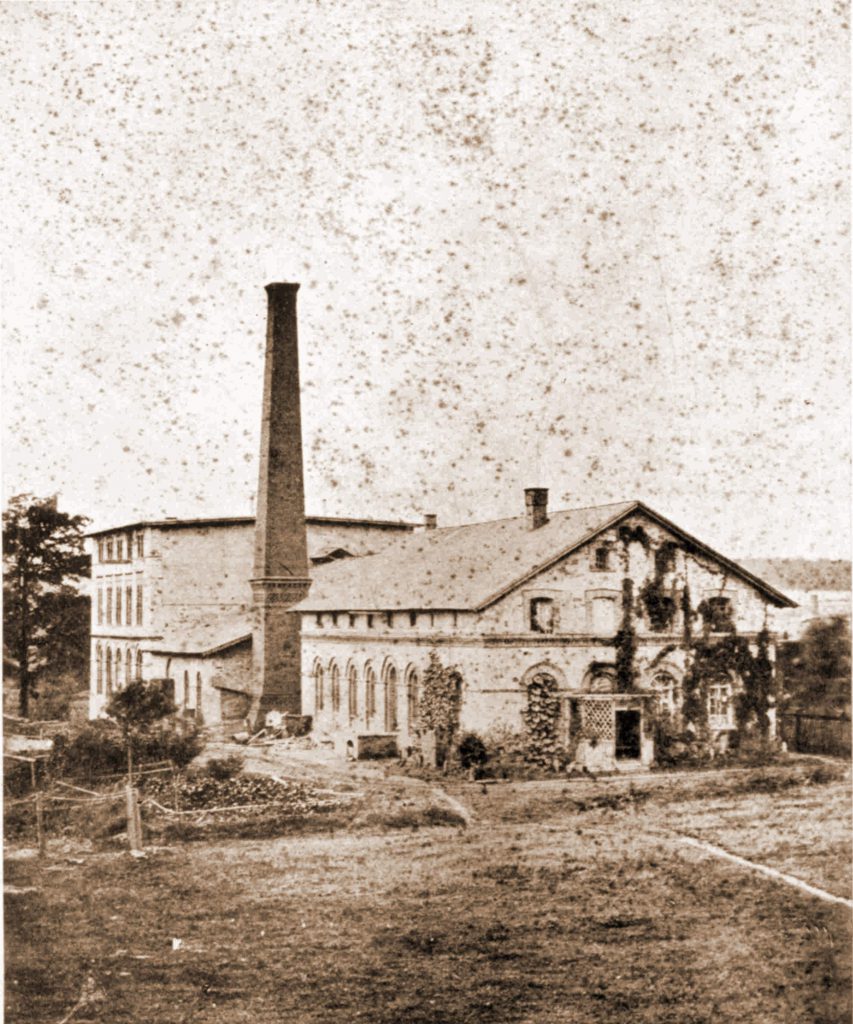 In the mid-19th Century It all started with spoons
In 1808 as a result of Prussian reforms, Mikołów ceased to be a private city. A new law on cities restored municipal government and an elective city council.
First industrial factories operating mostly in metal and engineering industries were opened in Mikołów in mid 19th century.
Everything started with a spoon company established by Ludwik Frölich at present Skotnica Street. At that time Silesia was famous for the production of spoons, and the factory in Mikołów was one of the biggest factories of that type in the region. According to Konstanty Prus, the factory was created in 1840, however statistical description of Pszczyna district  refers to year 1830.
Iron foundry called Maria Ludwika steel plant was created in 1842. It was located in the northern part of the town by the road to Katowice. Over time it started producing nails and spoons but it eventually had to stop the production.
Other steel plants created in the second half of the 19th century could not compete against  bigger factories in other Silesian towns and villages.
Another steel plant was built by the road to Mokre and was opened in 1850 by Eugeniusz Mann. It was called ironworks "Mikołów" ("Nicolai"), and was also known as "Mann" ironworks. Successive owners disappointed with low profits quickly sold the plant. It was shut down twenty years later.
Steel plant  "Walter" – built in 1856, close to the location where a railway station was built later, had to change its production profile (it manufactured enamelware etc.). Following reorganization, in 1911 the plant was turned into a factory manufacturing mechanical stokers called Fabryka Palenisk Mechanicznych. The plant exists till this day and uses the abbreviation of its former name – FPM SA.
A steam boiler factory was also opened in the second half of the 19th century. It was created in 1872 by Heinrich Koetz on a piece of land adjacent to Karola Miarki Street. The company flourished after 1895 following modernization performed by a new owner – Karol Büschel. The factory manufactured iron and metal structures, steam machines, machinery castings, construction and road equipment.
The company has been doing rather well, even in between the world wars and during occupation; since 1966 it has operated under the name  "Mifama".
A paper factory was created in 1862 at Rybnicka Street and it still exists today.
Mikołów also had breweries, distilleries, mills, brick factories and quarries.
There were several private mines  –  "Georgenflur", "Anna", "Hamster", "Maulwurf" and "Nicolai" but did not play a major role,  not even for the economy of the Duchy of Pszczyna. Anna mine is worth mentioning as it was opened in 1850 and closed down shortly after. It was however reopened in 1920 and its name was changed to Barbara. In 1926 it was transformed into an experimental mine and since then it has been one of the most important mines of this type worldwide.
Industrial growth in the 19th century led to an increase in the population of Mikołów, especially the number of factory workers with peasant origin who often had to run small farms at the same time to improve their life standard.