Jakub Jarząbek became a new Town Secretary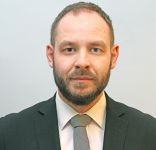 Jakub Jarząbek is 35 years old, he is a political scientist, a graduate of the Silesia University in Katowice. Since 2005 his professional career evolved in Katowice City Office where he first held the function of a junior specialist in the press department, and was later advanced to the position of a specialist and the manager of this department.

Directly before winning the open competition for the Town Secretary he was a manager of Katowice City Office Press Department. As the Head of the Press Department he was responsible among other things for the participatory budget and public consultations. Jakub Jarząbek pointed in his dossier a number of courses he participated in, among other things: related to local government, public information access and classified information protection. He speaks English fluently.
Brak komentarzy