Renewal of public space in the town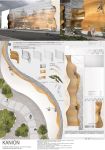 We are pleased to inform that on June 10th student contest on development of the area located at the main square, Karola Miarki street and 750-lecia square was solved at the Silesian Technical University. Students' works make up a part of a broad project focused on public space renewal in Mikołów.
Contest committee including: Jan Rabiej of Silesian Technical University, Michał Sitek (Silesian Technical University) and Mikołów Deputy-Mayor Bogdan Uliasz, Andrzej Gortel of Mikołów Town Office, Wojciech Klasa (Mikołów Town Office) selected the best projects:
I place:
Agnieszka Duczmalewska, Katarzyna Pająk
Distinctions:
Karolina Figiel, Magdalena Kurdziel
Joanna Rzany, Klaudyna Wawryka
Awards and diplomas will be given to the winners during a special meeting at the end of June in Mikołów.
Brak komentarzy